Regular price
Sale price
$95.00 USD
Unit price
per
Sale
Sold out
The perfect gift for the family who has everything: The Dallas Box from Killer Pecans.   
Of course, the city of our origins must have a box named for it. This is the perfect gift for the family who has everything, because this is one thing they don't have… or don't have enough of!  Your box set is carefully nestled in decorative kraft shred and shipped in our signature box measuring 13" x 11" x 4" and includes a card with a personal note from you. 
 DALLAS BOX INCLUDES:
Killer Pecans 8 oz bag
The original flavor that started it all! House made, custom spice blend give Original Spice Killer Pecans their unique savory flavor; a little sweet and a little spicy.  Original Spice Killer Pecans deliver a warm, back of the throat after burn that is just the right amount of heat for most palates.  Perfect for adding to salads, holiday recipes, ice cream, charcuterie displays or enjoy with a cocktail or right out of the bag.  Perfect for gifting, including in gift baskets, goodie bags, taking to social gatherings, or keeping all for yourself!  *Best Seller!
Cinnamon Pecans 8 oz bag
Tradition meets excellence in our Killer Pecans!  Made without caking on layers and layers of tooth breaking sugar.  Cinnamon pecans deliver a slightly sweet, salty and cinnamon flavor experience that evokes everything we love about traditional cinnamon pecans without the broken teeth.  A crisp, sweet, crunchy treat great for adding to your favorite baked goods, salads, cheese displays or sprinkling over ice cream!
 Killer Pecan Shortbread Cookie 1 dozen
Our cookies are so good they could single handedly boost the Texas obesity rate. The stuff of dreams, they're light, crispy, sweet and spicy. They're loved by all and perfect for any occasion, but especially for when your kids are in bed and you can finally enjoy an adult treat. These tubes of a dozen Killer Pecan Shortbread Cookies are the perfect size to sample and keep for yourself. 
Killer Pecan Toffee 12 oz bag
Layered thick with sweet, crunchy toffee, delectable milk chocolate, and sure-to-please Killer Pecans, our toffee is made deep in the heart of Texas using only the finest junior mammoth pecan halves and natural ingredients. This is one treat you won't be able to put down. 
Chocolate Dynamite Fudge 3 piece box
This much chocolate is difficult to describe.  Is it a brownie, is it fudge, is it a truffle? It's the best of all three! This 2"X2"X2" square of chocolate heaven is soft, butter toffee, but we are calling it fudge, only better. Dense dark chocolate with the creamy texture of the inside of a truffle laced with some spicy Killer Pecans and coated with a thin, crisp dark chocolate exterior.  It's a mouthful of wow!  Three squares in each 2" X 2" X 4" box.
Raspberry Chipotle Jam

Rich, dark raspberry jam with the surprise smokey kick of chipotle pepper.   It's everything you love about raspberry jam with a little Texas Twist.  Made in McKinney Texas by the award winning Jelly Queens.  Perfect for pairing with cheese and your favorite Killer Pecan flavor like blue cheese and Original Spice Killer Pecans.  
Our products are made deep in the heart of Texas using only the highest quality, natural ingredients. 

Share
View full details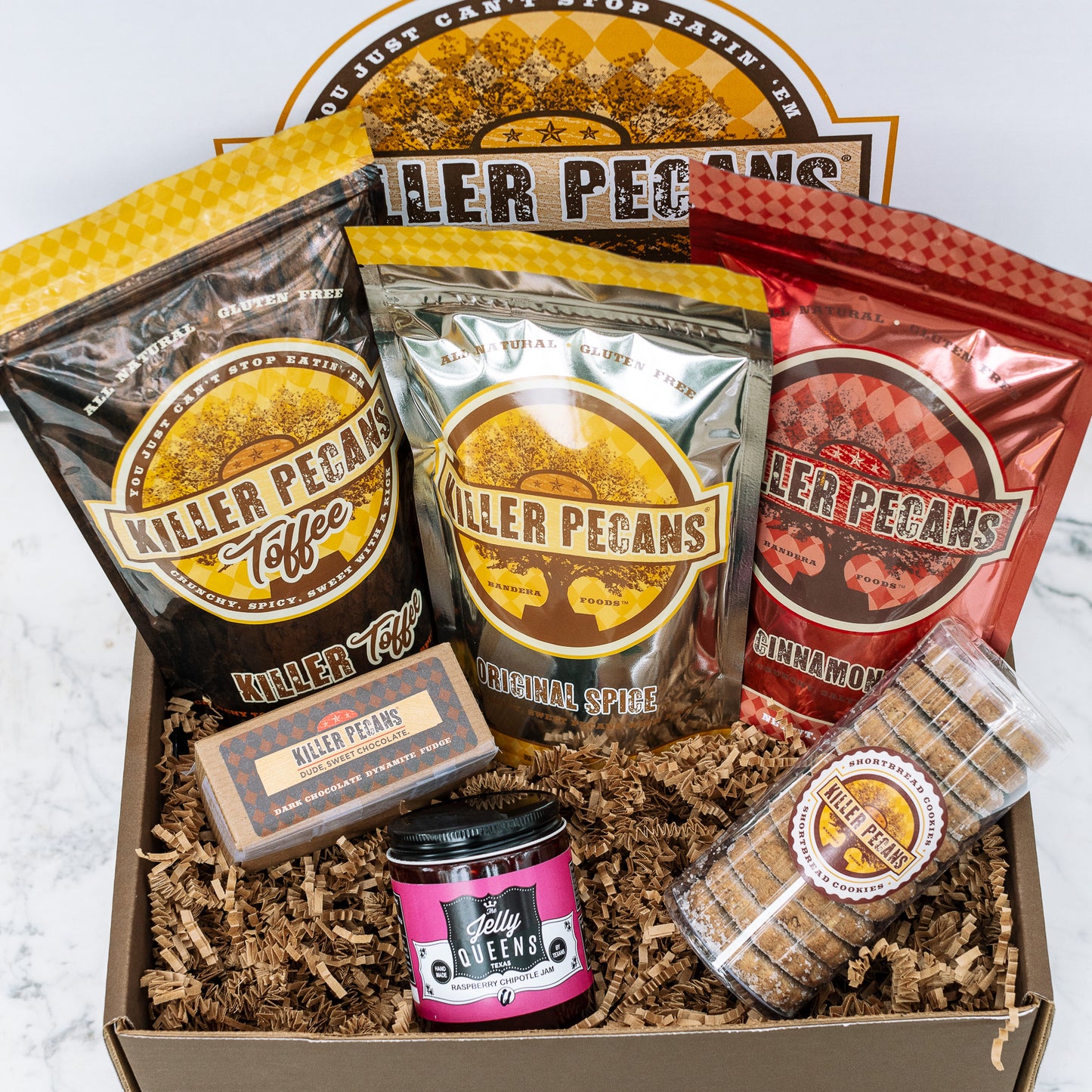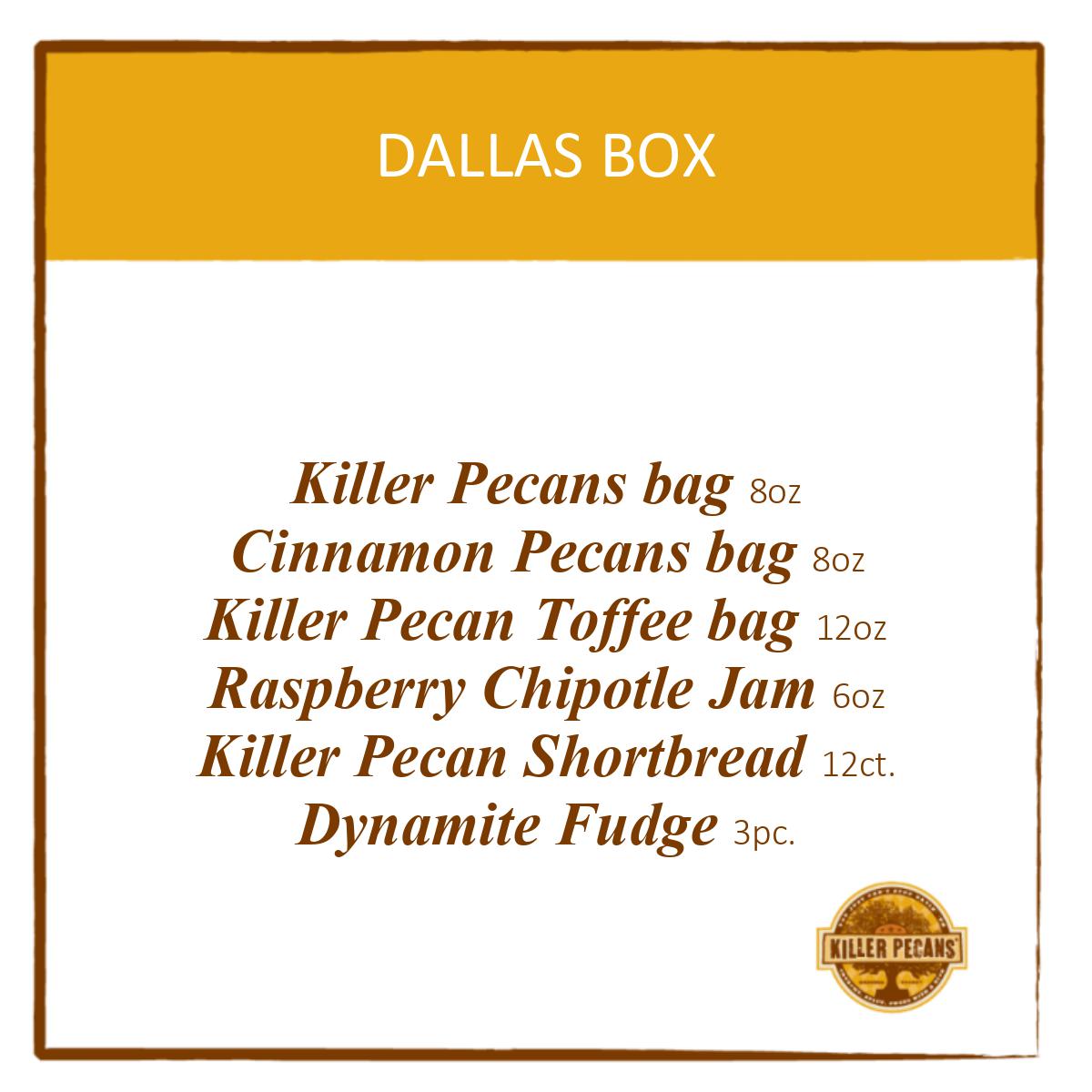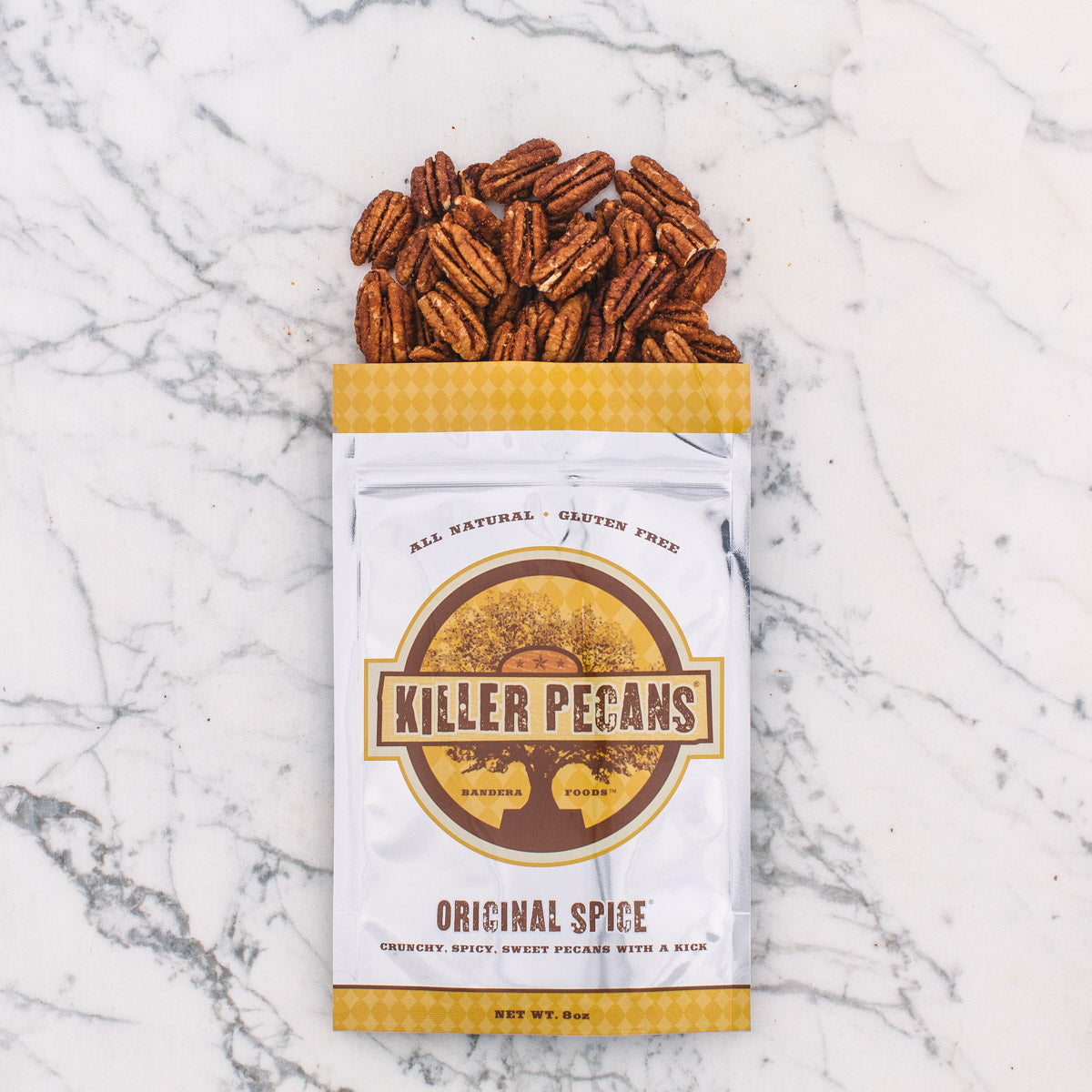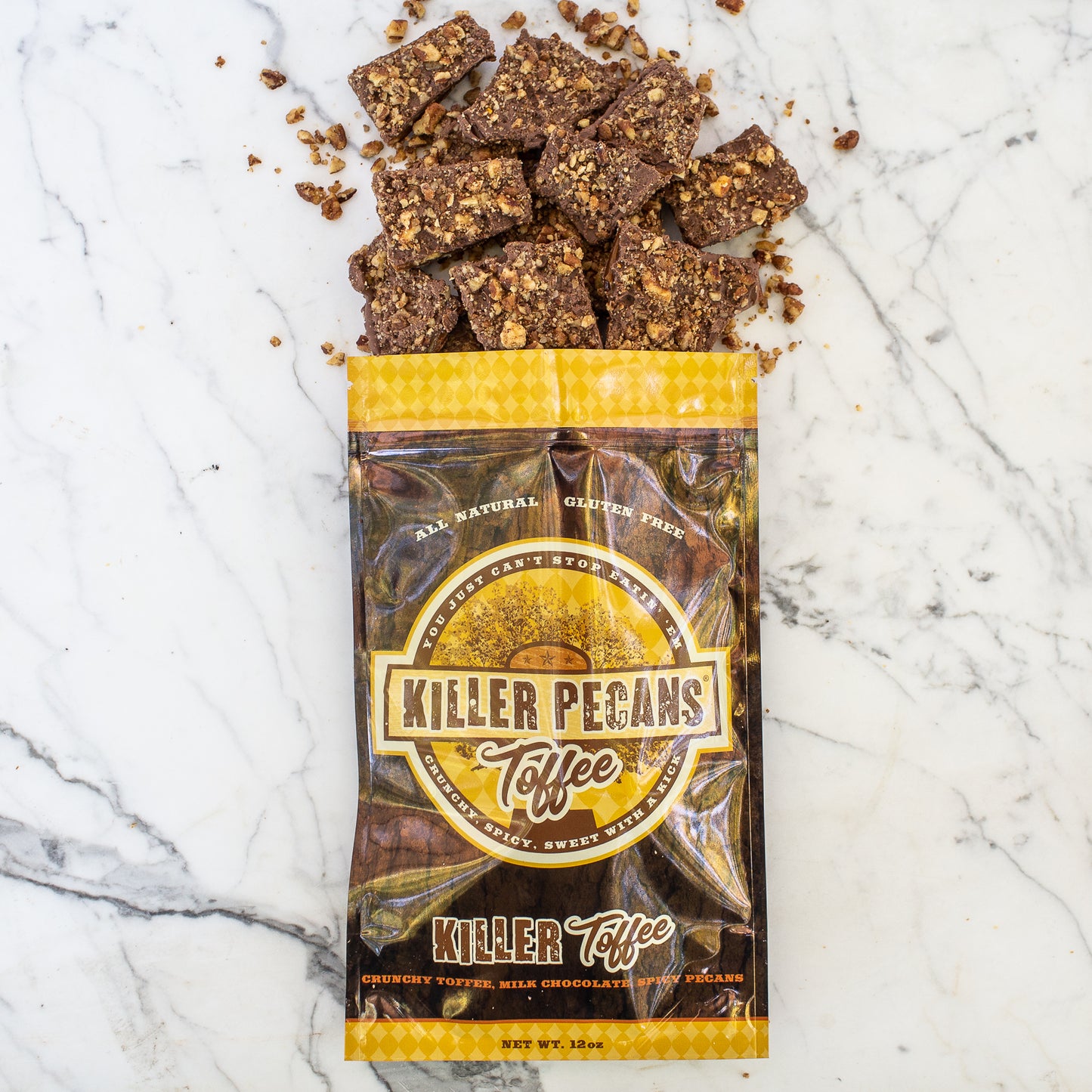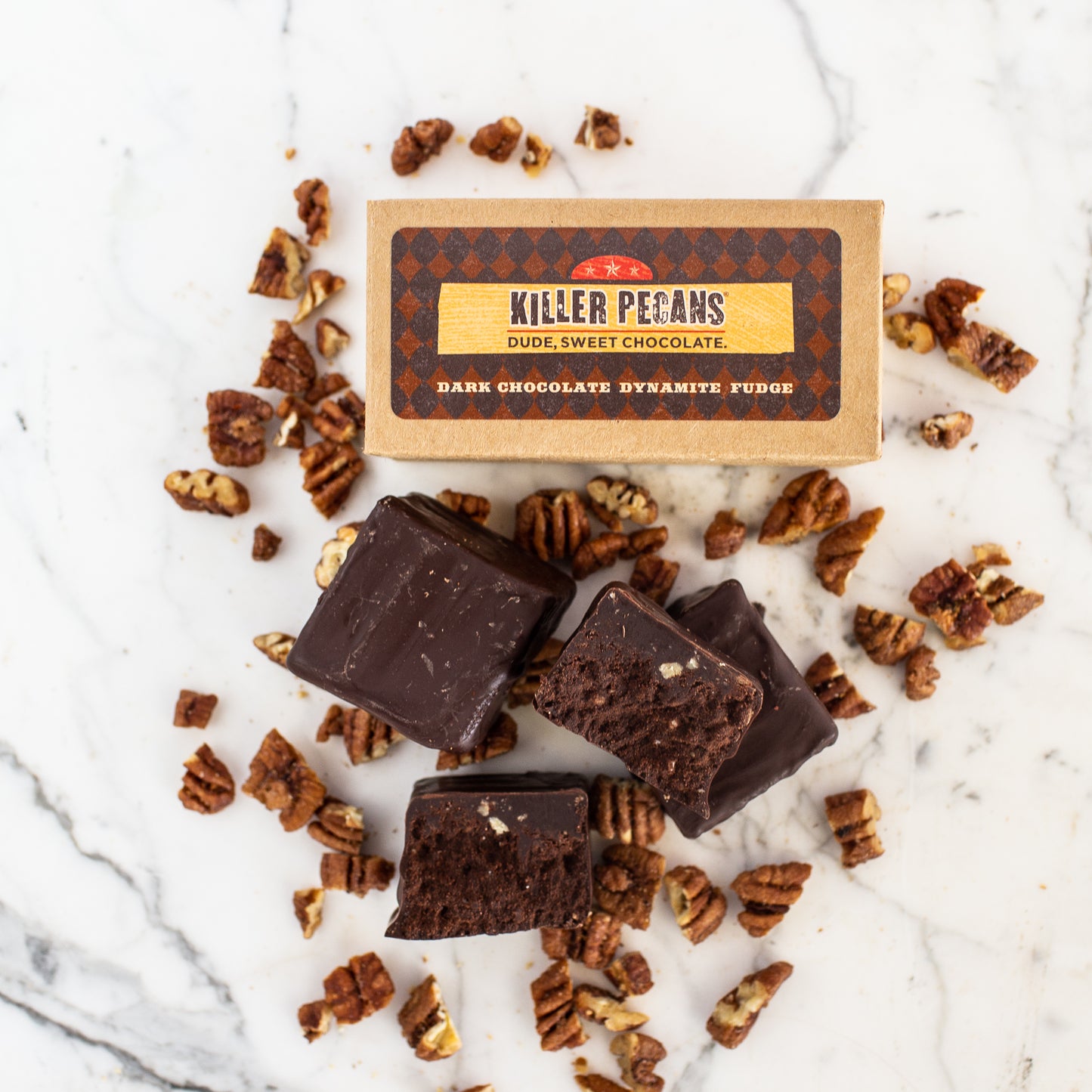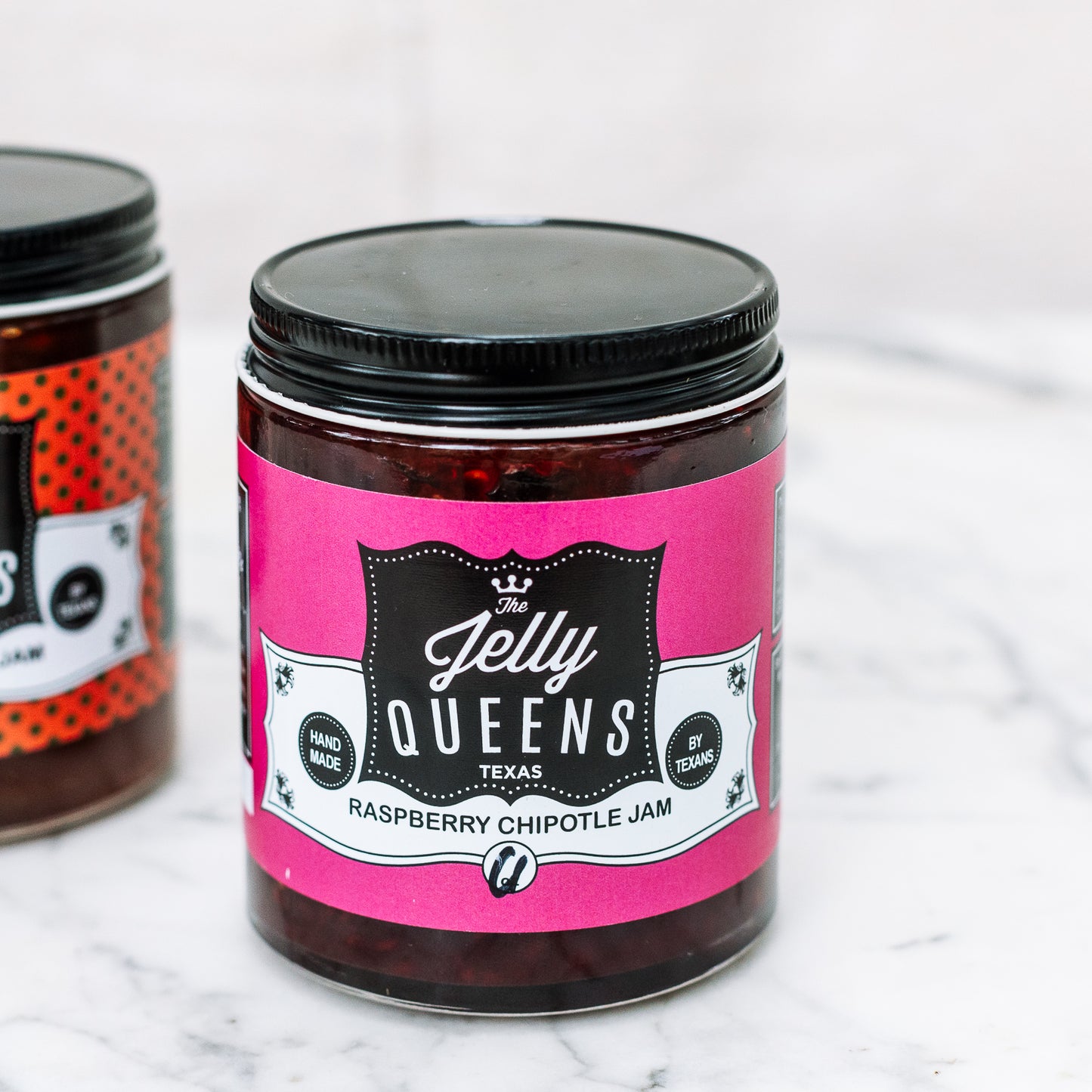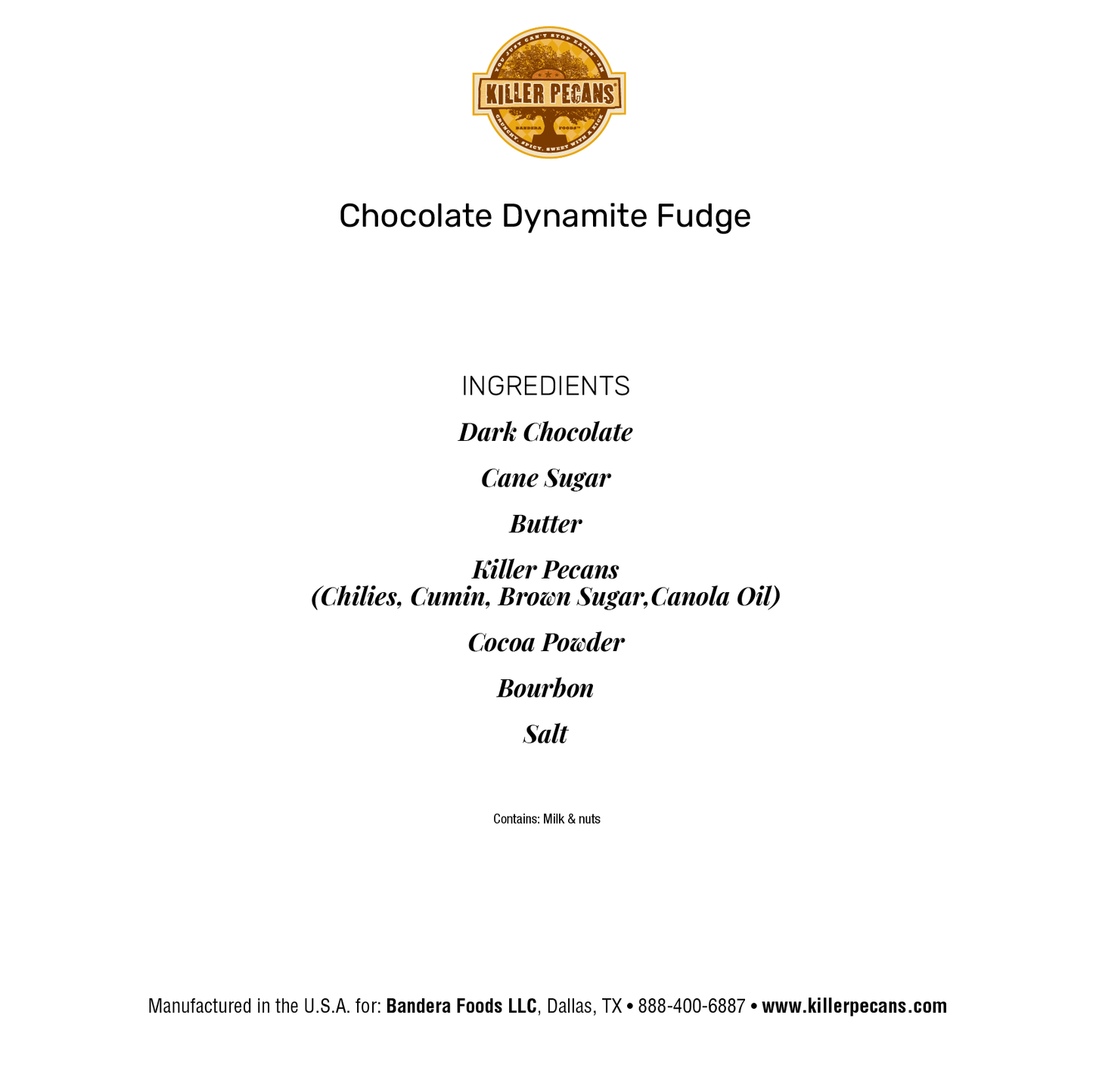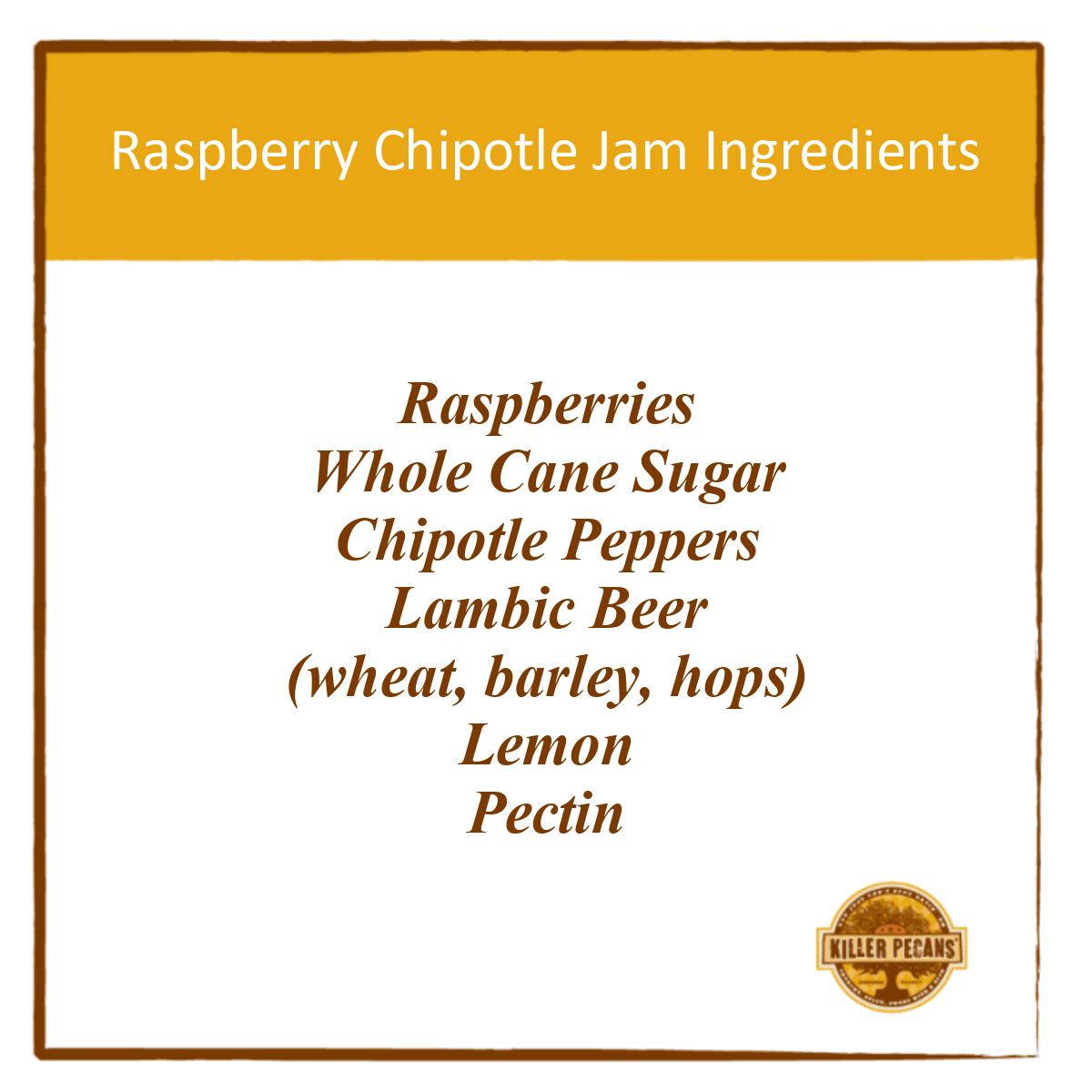 Killer Evans is a goto for gifts for family and friends. All flavors are wonderful. Great to work with!
FREE Shipping

FREE Shipping on orders of $100 or more!


Subscribe & Save

Subscribe to Killer Pecans for 10% off our pecans. Monthly options
available on select products for continued hassle-free spiciness
delivered right to you!